Affiliate Resources
Get scripts and guides for your email list and social media.
Download the trailer and the promotional image.
Use your affiliate link!
You earn a 50% share of revenue from Premium Pass sales that come through your customized links.
Share the Trailer
Email: Share the trailer to your email list. You can:
Use your main affiliate link
Download the trailer and host it on your own website/YouTube channel. Include your affiliate link everywhere you share the trailer.
Facebook
Share the trailer to your social from our Facebook Page. Include your affiliate link to register.
Instagram
Share the trailer to your Stories. Add a swipe up to your affiliate link to register.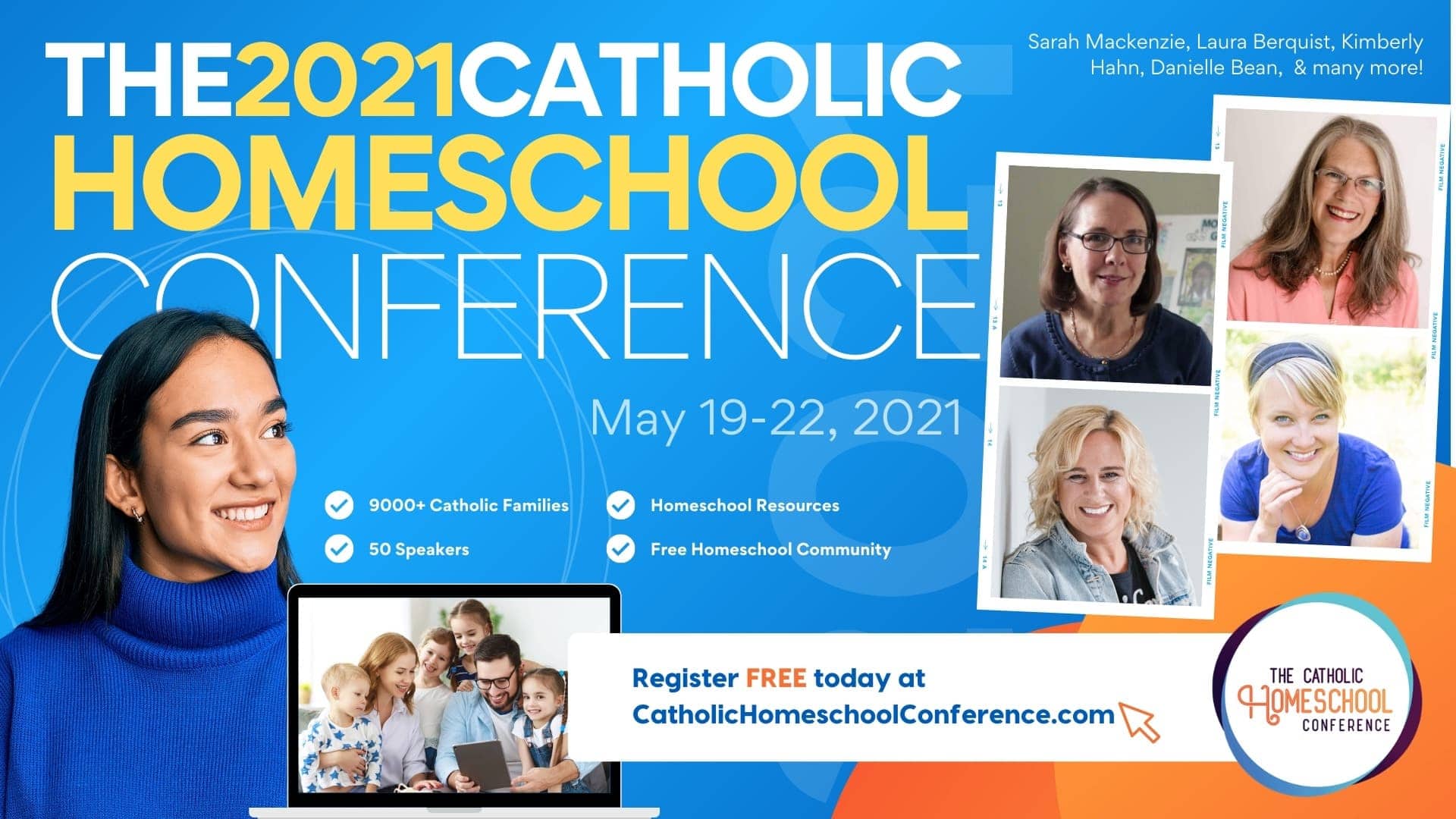 Share the image
Email
Share the image to your email list. Include your affiliate link to register.
Facebook
Share the image to your social from our Facebook Page. Include your affiliate link to register.
Instagram
Share the image to your Stories, with a swipe up to your affiliate link to register.
Suggested Promotional Calendar
Use this recommended timeline to release your promotional emails, videos, blogs , etc. to your audience about the upcoming 2nd Annual Catholic Homeschool Conference to maximize growing your list and offers!
April 15-30
Let your people know that Registration is Now open! Invite them to share the good news with friends and families and those new to homeschooling!
May 5th – May 17
Send out 2 to 3 social posts or emails to highlight your participation in the Conference. We put together copy, ideas, graphics, email examples and a trailer on this page to make it
super easy to promote the event!
May 18
Conference begins tomorrow! Conference goes LIVE 9:00am ET Each day of the conference is a great time to send out the schedule as a reminder, especially the day and time of your presentation or hosted speaker.
Dates Conference is OPEN
May 19: Day 1
May 20: Day2
May 21: Day 3
May 22
Last Day – it is a great idea to send out a couple of emails to let people know the Early Bird pricing and FREE viewing ends in a matter of hours. People are busy and are grateful for the reminders!
May 23 – May 31
A good time to send a follow-up feedback survey or just to say thanks for joining the event. It is a good time to nurture your NEW leads too!
Share on Social
Help spread the news! Press a graphic to download and share them!
Wide – for Blogs & Emails
Square – perfect for everywhere!
Getting the word out is how we make this a success for everyone!
Step 1: Drive as many free registrations as possible using your affiliate link.
Step 2: let your followers know that they can directly support you and your ministry by purchasing the Premium Pass.
Scroll down on this page for
Email scripts
How to use a story-style to get people to sit up and read
Templates for social media
Keep reading. But first:
Some people wonder about 'affiliate links'. We've all seen people who are spammy with their marketing. Here's how you can use it to your advantage.
Treat being an affiliate for the Catholic Homeschool Conference as your extra-special endorsement.

Offer your own insight and commentary related to the summit themes of freedom, family, and responsible parenting.

This way, your promotions feel human and welcome, instead of "salesy."

Have fun in exploring creative ways to talk about the conference. Share your news through your own through story and personal witness.
Your email list and social media followers want to hear your take on things! That's why they signed up, and why they follow you.
They know you, trust you, and have the greatest chance of taking your advice.
– Paola
How many emails is too many?
Sending just a one-off email to your list isn't very effective. You need to keep sending messages regularly, providing people with real, helpful, and interesting materials.
This will inspire them to keep opening your emails!
Do you…
Email your list 2+ times per week? Pick one of those emails to include Conference-related details.
Send only 2-3 emails a month? Send at least 3 conference-dedicated emails before the event.
70% of people will buy their Premium Pass during the open period. Most will wait until the final day. To make the most commissions from your affiliate link, we again recommend a final reminder on _________.
Email Template
Have an email list? Make your first announcement immediately.
Subject: Breaking news: add an interesting title!
From: Your Name
To: Your Excited Subscriber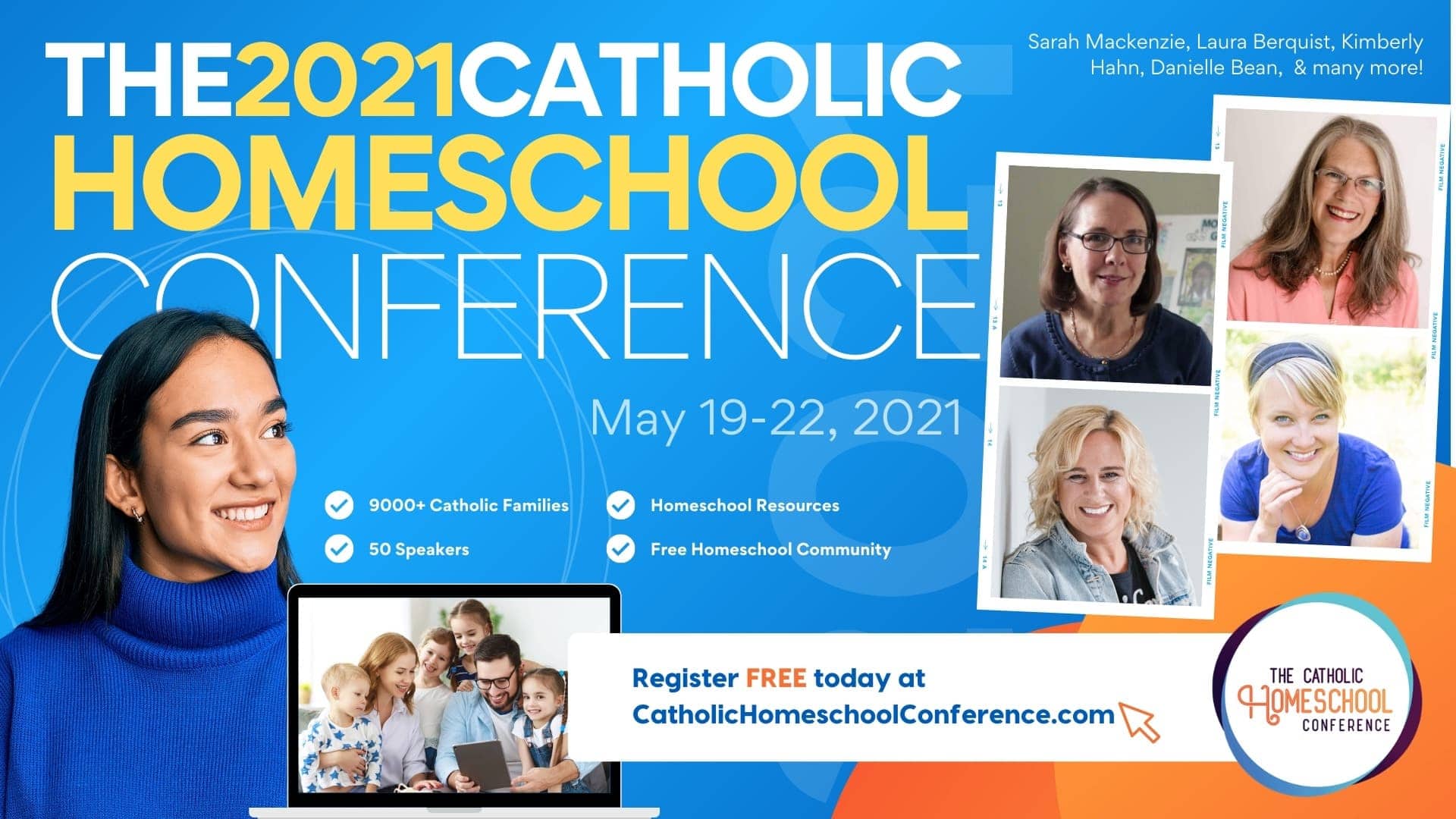 Start with a personalized image here, or the Conference graphic.
Link the image using your affiliate link.
Hi (Name),
Breaking news! I wanted to let you know about the second Catholic Homeschool Conference, coming up May 19-22. And I'm excited to be a part of it.

This Conference is the largest gathering online for Catholic families homeschooling or just thinking about it, and it's free! Each year, they bring together some of the best voices on homeschooling. The goal: to help us discover our own, unique ways to teach our children.
It's packed with practical resources, short talks, and a thriving online community full of young families just starting out as well as veteran homeschoolers sharing their vast experience

And… I'd love to have you join me there!
Press here [insert your affiliate link] to sign up free.
Watch your email! I'll be sending an update soon.
See you at the Conference!
SIGNATURE
P.S. Please forward this email to all the homeschoolers you know!
Story-based messages
A human way to get people interested!
A story-based style approach is one of the most effective ways to build attention in a very distractible world with your followers.
Why?
Because we are made for stories, they teach the value of what you are offering, they reveal something personal and relatable, they answer objections and questions and keep them coming back for more to read. You can always keep sharing different stories.
You can also keep sharing updates about the same message without repeating yourself!
Here's the basic structure for a story-based email:
Subject line: spark interest!
A personal story about your struggle
Describe what a happy outcome would look like.
End with an invite to take action
Subject: I never thought homeschooling could work for me…
From: Your Name
To: Your Excited Subscriber
Hi (Name),
Start with a personal story and a problem
Several years ago, I was struggling with homeschooling. I'm not kidding. I didn't know what books to use. Didn't know who to turn to. And the local school kept mailing me flyers. My in-laws were trying to convince me that I was a terrible parent…
Describe a happy outcome
That was when I began to realize that I wasn't actually the problem. It was that I didn't know all my options. I didn't realize that I could be a hands-on, phenomenal parent who my kids loved to spend time with, and still give them a beautiful, Catholic, education. No one had showed me that I could build my own curriculum, and my family would be better for it. I began to discover I wasn't alone, and that I have friends just waiting for me to show up and share my questions and insights…
End with a clear invitation to take action.
This is why I hope you'll join me at the 2021 Catholic Homeschooling Conference. I'll be sharing more than my own story. I want to hear yours, and we can brainstorm answers together to help you find your own path to caring for your children's future.
– or –
This is why I prepared a free, 4-step guide to helping you discover [insert idea]. Download it today, print it off and mark it up. Share it with a friend. Then send me your next question!
– or –
[insert your own call to action]
You don't want to miss this conference. Register for free now: [include your affiliate link]
I'm excited to see you there,
SIGNATURE
P.S. Always include a final reminder to share, or to take action! The PS area often gets plenty of attention!
Social Media Templates
Social media is for connecting. Not for selling – at least not immediately.
Always start by posting 2-3 times with interesting, helpful, or funny content. After that, you have 'earned the right' to ask people to take action.
It's the give-give-give-ask approach!
Facebook
Use the story-script you sent in your email!
Always end with:
Join us for free at [your affiliate link]
Twitter
Sample: It's 2021, and the Catholic Homeschool Conference is back with 50+ speakers! It's the #1 way for new homeschoolers to find resources, practical insights, and community. And its free! [insert your affiliate link]
Instagram
Share a short video (30 seconds or less) explaining why they should join, and why you're excited. Use the story-based format. Post your script underneath the video, and add your affiliate link to your bio area.