10-21-21 update: announcing the top 3 finalists!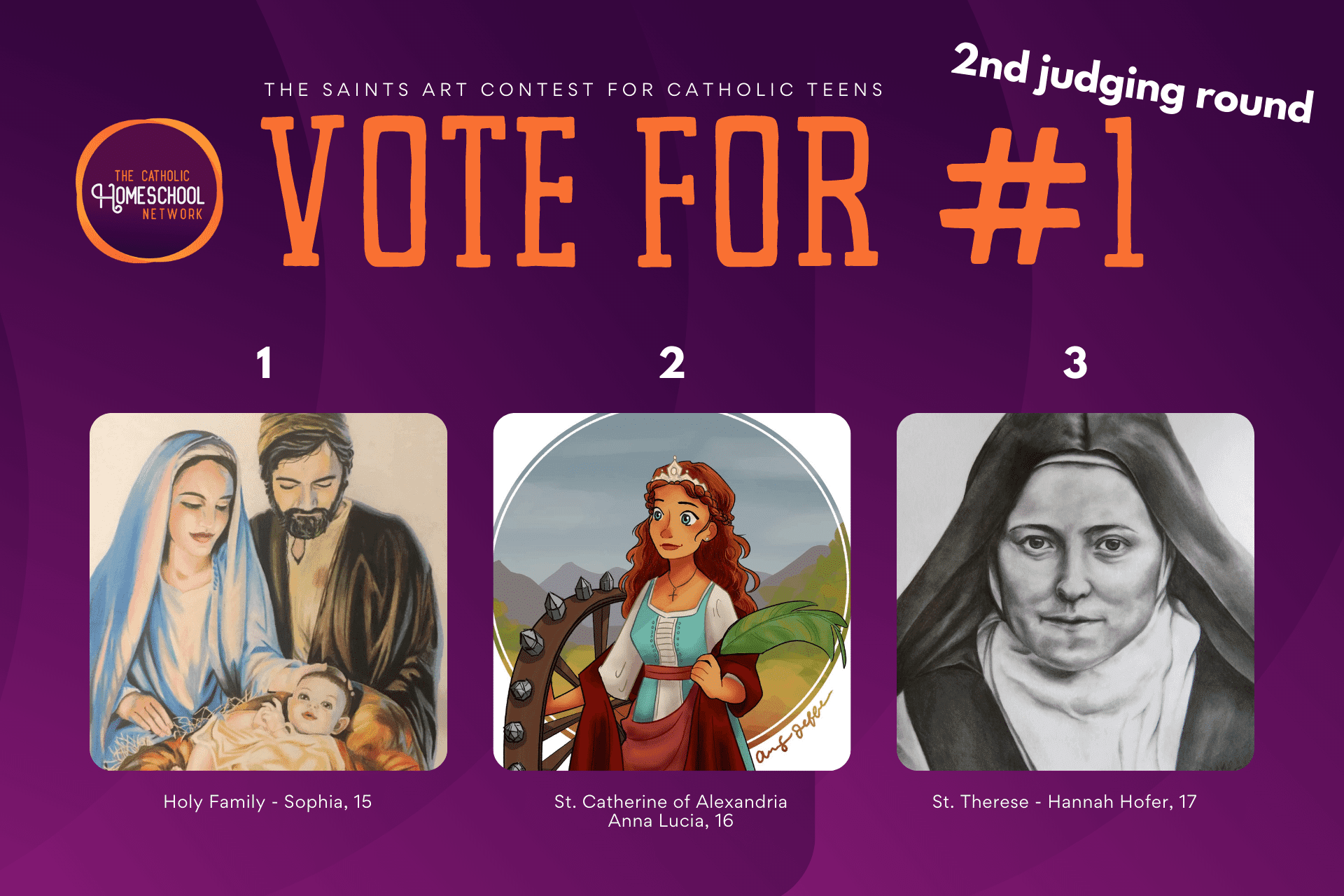 Vote here for your favorite to win first place
To vote, you will need to enter the Catholic Homeschool Community, or create a free account.
Our sponsor, JPCatholic has selected the top 3 finalists from the first judging round!
"We had a small panel of JPCatholic staff and art faculty vote on the ten pieces, to narrow it down to three. We were all impressed with the quality of submissions and it was tough to pick just three!"
Holy Family – Sophia, 15
I'm a 15 year old homeschooler who loves to draw. I love the Holy Family and wanted to do a portrait of them. I started coloring in March (with colored pencils), and worked on it on and off until I finished a couple weeks ago. It took about 20-30 hours to finish. I especially loved to draw St. Joseph, since it is the year of St. Joseph.
St. Catherine of Alexandria – Anna Lucia, 16
I am a self-taught digital artist with a passion for animation and illustration! I chose to draw St. Catherine of Alexandria for this challenge. She is one of the few "Holy Helper" saints in the Catholic Church, a collection of saints known for their incredibly effective intercessions. Her reputation as a scholar at the young age of 14, as well as her youthful martyrdom, are epic inspirations of courage and perseverance! Her depictions in icons and classical art are some of my favorites, and I was elated to finally try a hand at my own design! Thank you for this delightful challenge! God bless!
St. Therese – Hannah Hofer, 17
I'm a 17 year old artist who likes to draw realistic portraits. My submission is of St. Therese of Lisieux. She is on of my favorite saints and a big inspiration of mine.
---
10-19-21 Update! The top 10 entries from the contest entries have been selected: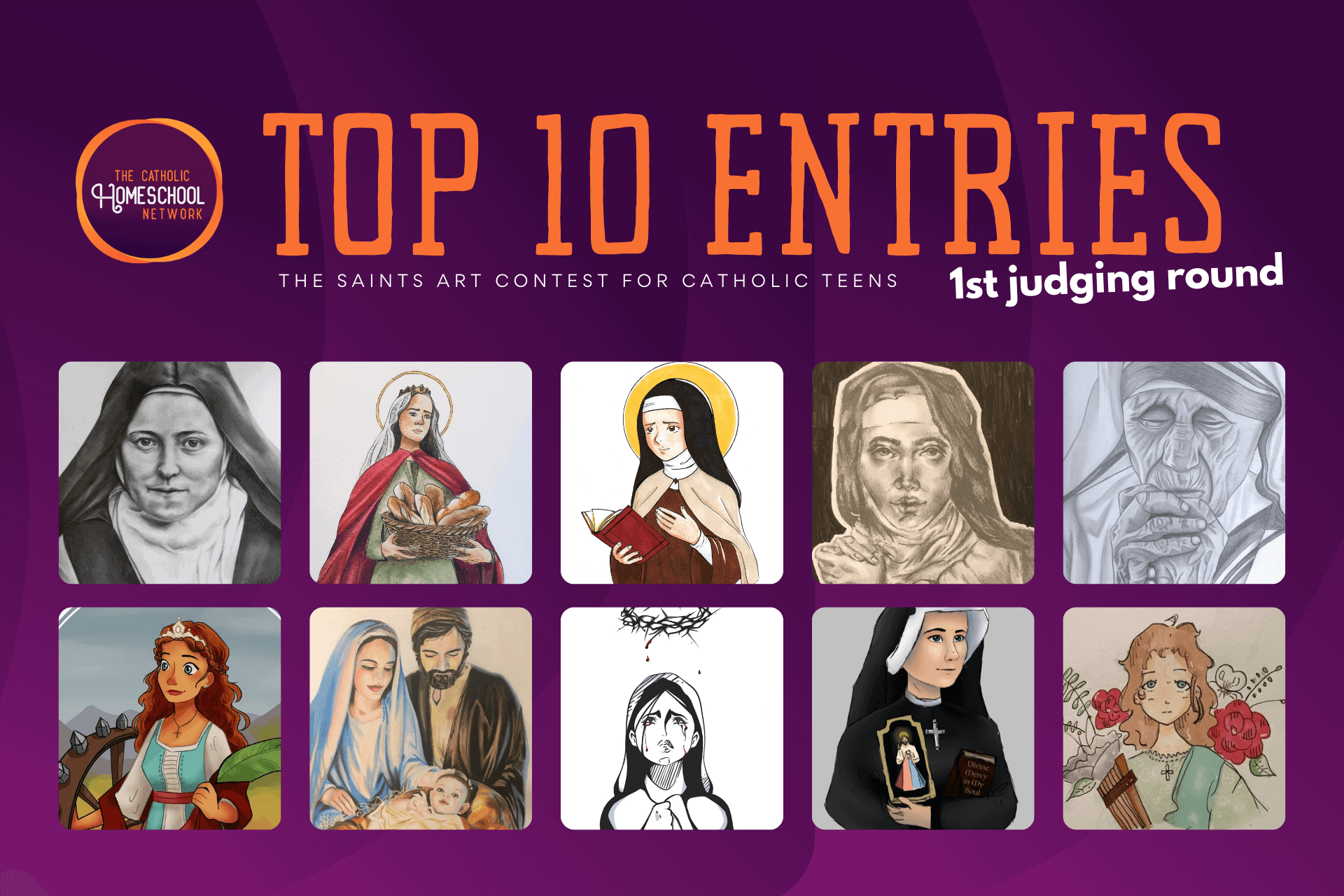 We're serious when we say this was not an easy choice! The quality of art and various styles absolutely stunned Paola Ciskanik and your hosts for this contest. We did not expect this level of excellence and expertise.
Thank you for making our job as judges impossibly difficult!
We selected these top 10 entries based on adherence to the rules, clarity of art, and maturity of design.
What's next?
The conference sponsor, JPCatholic, will review these top 10 and select the 3 best.
After that, we will invite everyone (meaning you!) to vote on the #1 favorite, right here in the community.
---
About this Contest
To celebrate our upcoming 'Life After High School' conference, we're hosting an art contest for Catholic teens everywhere! This contest is sponsored by John Paul the Great Catholic University.
Prizes for the Top Place Winner:
$250 cash prize from Catholic Homeschool Network
The winning design will be turned into merch in our upcoming store
JPCatholic gifts a goodie box (Manga books, written by JPCatholic alumni) 'Many Are Called,' 'Judith: Captive to Conqueror,' 'Paul: Tarsus to Redemption,' JPCatholic t-shirt, JPCatholic stickers, 'Quiet': An illustration print by student Mia Schaller, Crash Course in Storytelling bookmark
How to Enter:
Make 1 drawing of your favorite saint. Only 1 entry per student.
Upload it to the comments on this post
Include 2-3 sentences: describe why you picked this saint, include your age, and a sentence describing yourself.
Deadline is October 15, 2021
How the Contest works:
After the October 15 deadline, we will select the top 10 best entries. Our choices will be on adherence to the rules, clarity of art, and maturity of design.
Our conference sponsors at John Paul the Great Catholic University will then judge the top 3.
Finally, we will invite everyone in our homeschool community to decide on the #1 winner!
Prizes will be awarded on Oct 18, 2021, after the final vote is published in the community!
By participating in this contest, you are granting the Catholic Homeschool Network a non-revocable, royalty-free license in perpetuity to use your submission and design in any media or medium. You retain all copyrights to your artwork, and can use it anywhere you wish.
How to get notified:
Join the mailing list to get news and updates, and to be alerted to the judging rounds! Winners will be notified by email.
What kind of art style?
All styles are welcome. The best illustrations will have strong lines that will print clearly – like a coloring book. Your art can be black and white, or full color. Ideally the art should be inked in marker, pen, or paint, or digital art like Adobe Sketch or Photoshop. Pencil-sketched art won't print as well.
Take a photo or scan it in. Ensure that it is clear and flat, not at an angle or with shadows.
Who can enter?
Middle school and High school ages 12 to 18.
You do not have to be a homeschooler
You can be anywhere in the world
---

Sponsor: John Paul Catholic University
Located in Southern California, JPCatholic is the Catholic university for creative arts and business innovation. We combine hands-on instruction in media and business with an enriching Catholic liberal arts education. Experience small class sizes, mentorship from industry professionals, and a community of creative Catholics who believe in the power of beauty to transform culture.
Ready? Go!
Ask any questions below, and as soon as you have your drawing, upload it below. Deadline is October 15, 2021
We can't wait to see your amazing artwork!
Put in your email right here to stay notified ↓